Hey there! 
Welcome to a new limited series we'll be sending out every so often, Studio Diaries, or "How to Make a Record When You Don't Know What You're Doing".  :)  The emails and accompaniments are our way of keeping those interested up to date with what's going on as we record some new songs for a hopeful release just before St. Patrick's Day 2021!   Along the way, we'll provide stories, photos, video clips and some band interviews about how the process is going and how much their alcohol intake has increased during recording.   Here's a quick video recap of the first day of recording.  We promise we really do know how to count :)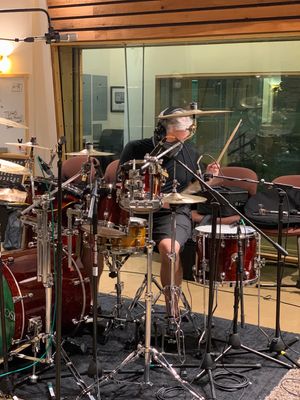 So after a couple months of writing and discussing, we have our first day of recording in the books.  We headed up to Dublin, OH to start recording with the very talented Eric Van Wagner at Groove U.  Besides being a top-notch studio, Groove U (as the name suggests) is also a first class school for audio engineering.  Their students have gone on to do some great work in the audio field.  Eric is also one of the instructors there and is currently writing a text book on the subject, a project that has taken him to visit many great studios including the iconic Abbey Road studio in London.  
The plan for day one was to get the drums and bass down on at least two tracks, hopefully three.  We had 8 hours of time booked and you would think that would be plenty of time, but studio time is taxing and the clock seems to run fast when you're having that much fun.  Drums take a lot of time to set up and get properly mic'd and sound checked.  The 2-3 hours of setup time gave the rest of us time to have some lunch and a drink or two to relax a bit.  But we managed to push through the fatigue and got the drums and bass down on 3 new tracks and some guitars down as well.   
Studio time between now and Thanksgiving is tight due to the studio's schedule, but after Thanksgiving we'll be booking several days.  This should give our melody instrument folks time to work together on tightening up arrangements, and we will be sure to keep you updated with info between now and the next session.  
We're really excited to record these songs and share them with you all and we hope these emails will give you a peak into what goes on while making a record/EP.   We're also going to put these in a new blog on our website and you all, the ones that have stuck with us for a very long time, will be the first to be in the know when new updates are published. 
We'll be back with another update soon!  In the meantime, stay safe, healthy and hydrated!
9CC